Inquiries on Violence at Occupy Protests Moving Slowly
More than four months after an Occupy demonstration shut down the Port of Oakland and devolved into violence, at least nine separate investigations into the ways police officers dealt with the protests in Oakland and on University of California campuses in Davis and Berkeley remain unresolved.
Many of the investigations have been delayed for reasons that range from a court challenge to the difficulty of scheduling meetings with college students. And while people on both sides of the Occupy issue applaud the efforts, experts said the sheer number of investigations could be counterproductive.
There is a danger that excessive investigation "can actually lead to greater obfuscation, because no one understands what each investigation is doing," said Linda Lye, a staff attorney with the American Civil Liberties Union of Northern California, which is representing protesters in lawsuits against Oakland and U.C. Davis. "Delay is always a concern, because it can lead to diminished public interest and distraction."
At U.C. Davis, where a campus policeman pepper-sprayed a group of seated students and others on Nov. 18, a task force report was expected last week. However, a judge granted a temporary restraining order at the request of the police union. A hearing is scheduled for Friday in Alameda County Superior Court.
At U.C. Berkeley, several groups are reviewing the events of Nov. 9, when campus police jabbed demonstrators with batons and dragged two protesters, including a professor, to the ground by their hair. The professor, Celeste Langan, was one of five people charged by the Alameda County District Attorney's Office last week with misdemeanor resisting arrest in connection with the protest.
Lt. Eric Tejada of the U.C. Berkeley police said the results of one investigation were expected "any day now."
Meanwhile, a report by U.C. Berkeley's Police Review Board, initially expected in January, may now be finished in April. "We had a subcommittee of five people," said Jesse Choper, a professor at the university's law school and chairman of the review board. "Two of them are students. It's very hard to get meetings together."
In Oakland, investigators are working through hundreds of complaints of police misconduct, many of them related to Scott Olsen, the Iraq war veteran who sustained a fractured skull during a protest on Oct. 25. Mr. Olsen's lawyer, Mark Martel, told The Bay Citizen this week that Oakland police had acknowledged that a bean bag round hit Mr. Olsen in the head. It is still not clear who fired the shot.
"I think that it's been plenty of time by now," Mr. Martel said. "It doesn't take five months to find out who shot him."
Sgt. Chris Bolton, the Oakland Police Department's chief of staff, said his department was reviewing hundreds of videos, documents and other evidence related to Occupy protests on Oct. 25 and Nov. 2.
"I don't want anyone to think that it's ever our hope or intention to let things die down and never address it," Sgt. Bolton said. "We have never backed down from telling people that where appropriate we will investigate, and we will hold ourselves and each other accountable. So at some point those investigations will conclude."
November 28th – In solidarity with UC Davis , UC Berkeley, CUNY Schools and all students who are defending their right to protest against rising tuition cost and out of control student debt. We ask you to STRIKE! No work, no school – please join together in a central area of your choosing and stand up against the VIOLENCE and SUPPRESSION that is happening in our schools.
Please abide by the Pledge of Non-Violence to Participate in the Student Strike:
We are an open, participatory, democratic, horizontal, peaceful, and nonviolent movement.
We are not a leaderless movement, we are a movement of leaders.
Click through to register your school with Occupy Colleges.
A Response from President Yudof at UC Davis
howlocanyougo submitted: 
 I just received this response email from the president of UC Davis in response to emails about their police misconduct last week.
Thank you for your email regarding the recent incident where UC Davis students were doused with pepper spray by campus police.  As I am sure you will understand, I have received innumerable message about this and, although I would like to respond personally to each one, that is simply impossible given the volume.  I am, therefore, sending this same response to all, but I want you to know that I am reading all the messages I have received. 

Please know that I share your utter dismay over this shocking incident.  In response, I have issued the following statement:

 I am appalled by images of University of California students being doused with pepper spray and jabbed with police batons on our campuses.

I intend to do everything in my power as President of this university to protect the rights of our students, faculty and staff to engage in non-violent protest. 

Chancellors at the UC Davis and UC Berkeley campuses already have initiated reviews of incidents that occurred on their campuses. I applaud this rapid response and eagerly await the results. 

The University of California, however, is a single university with 10 campuses, and the incidents in recent days cry out for a systemwide response. 

Therefore I will be taking immediate steps to set that response in motion. 

I intend to convene all 10 Chancellors, either in person or by telephone, to engage in a full and unfettered discussion about how to ensure proportional law enforcement response to non-violent protest. 

To that end, I will be asking the Chancellors to forward to me at once all relevant protocols and policies already in place on their individual campuses, as well as those that apply to the engagement of non-campus police agencies through mutual aid agreements. 

Further, I already have taken steps to assemble experts and stake-holders to conduct a thorough, far-reaching and urgent assessment of campus police procedures involving use of force, including post-incident review processes. 

My intention is not to micromanage our campus police forces. The sworn officers who serve on our campuses are professionals dedicated to the protection of the UC community. 

Nor do I wish to micromanage the chancellors. They are the leaders of our campuses and they have my full trust and confidence. 

Nonetheless, the recent incidents make clear the time has come to take strong action to recommit to the ideal of peaceful protest. 

As I have said before, free speech is part of the DNA of this university, and non-violent protest has long been central to our history. It is a value we must protect with vigilance. I implore students who wish to demonstrate to do so in a peaceful and lawful fashion. I expect campus authorities to honor that right.

UC Davis Chancellor, Linda Katehi, has also issued a statement and I attach for your information a copy of her statement, as well as two media releases regarding the placing of the officers involved and the police chief on administrative leave.  She has my full support in this matter and I am confident that she and her administration will work to preserve the health and safety of the campus community, and to conduct a fair review of this unfortunate event.  I am sharing your message with her so that she, too, will be aware of your concerns.

With best wishes, I am,

Sincerely yours,

Mark G. Yudof

President

Enclosures

cc:        Chancellor Katehi

Dear Member of the UC Davis Community: 

Yesterday was not a day that would make anyone on our campus proud; indeed the events of the day need to guide us forward as we try to make our campus a better place of inquiry, debate, and even dissent. As I described in my previous letter to the community, this past week our campus was a site of week-long peaceful demonstrations during which students were able to express their concerns about many issues facing higher education, the University of California, our campus, our nation, and the world as a whole. Those events involved multiple rallies in the Quad and an occupation of Mrak Hall which ended peacefully a day later. 

However, the events on Friday were a major deviation from that trend. In the aftermath of the troubling events we experienced, I will attempt to provide a summary of the incident with the information now available to me. 

After a week of peaceful exchange and debate, on Thursday a group of protestors including UC Davis students and other non-UC Davis affiliated individuals established an encampment of about 25 tents on the Quad. The group was reminded that while the university provides an environment for students to participate in rallies and express their concerns and frustrations through different forums, university policy does not allow such encampments on university grounds. 

On Thursday, the group stayed overnight despite repeated reminders by university staff that their encampment violated university policies and they were requested to disperse. On Friday morning, the protestors were provided with a letter explaining university policies and reminding them of the opportunities the university provides for expression. Driven by our concern for the safety and health of the students involved in the protest, as well as other students on our campus, I made the decision not to allow encampments on the Quad during the weekend, when the general campus facilities are locked and the university staff is not widely available to provide support. 

During the early afternoon hours and because of the request to take down the tents, many students decided to dismantle their tents, a decision for which we are very thankful. However, a group of students and non-campus affiliates decided to stay. The university police then came to dismantle the encampment. The events of this intervention have been videotaped and widely distributed. As indicated in various videos, the police used pepper spray against the students who were blocking the way. The use of pepper spray as shown on the video is chilling to us all and raises many questions about how best to handle situations like this. 

To this effect, I am forming a task force made of faculty, students and staff to review the events and provide to me a thorough report within 90 days. As part of this, a process will be designed that allows members of the community to express their views on this matter. This report will help inform our policies and processes within the university administration and the Police Department to help us avoid similar outcomes in the future. While the university is trying to ensure the safety and health of all members of our community, we must ensure our strategies to gain compliance are fair and reasonable and do not lead to mistreatment. 

Furthermore, I am asking the office of Administrative and Resource Management and the office of Student Affairs to review our policies in relation to encampments of this nature and consider whether our existing policies reflect the needs of the students at this point in time. If our policies do not allow our students enough flexibility to express themselves, then we need to find a way to improve these policies and make them more effective and appropriate. 

Our campus is committed to providing a safe environment for all to learn freely and practice their civil rights of freedom of speech and expression. At the same time, our campus has the responsibility to ensure the safety of all others who use the same spaces and rely on the same facilities, tools, environments and processes to practice their freedoms to work and study. While the university has the responsibility to develop the appropriate environments that ensure the practice of these freedoms, by no means should we allow a repeated violation of these rules as an expression of personal freedom. 

Through this letter, I express my sadness for the events of past Friday and my commitment to redouble our efforts to improve our campus and the environment for our students.

Sincerely,

Linda P.B. Katehi

Chancellor

Police officers put on administrative leave

November 20, 2011

Two UC Davis police officers have been placed on administrative leave following their use of pepper spray in the Friday arrests of 10 protesters on campus, university officials said today.

"I spoke with students this weekend, and I feel their outrage," said UC Davis Chancellor Linda P. B. Katehi. "I have also heard from an overwhelming number of students, faculty, staff and alumni from around the country. I am deeply saddened that this happened on our campus, and as chancellor, I take full responsibility for the incident. However, I pledge to take the actions needed to ensure that this does not happen again. I feel very sorry for the harm our students were subjected to and I vow to work tirelessly to make the campus a more welcoming and safe place."

Katehi also accelerated the timetable for a task force to investigate the events surrounding the arrests, including communications from the police to the administration. She set a deadline of 30 days for the task force to issue its report. Katehi said the task force, which will include representatives of faculty, students and staff, will be chosen this week and will convene immediately.

At the same time, the chancellor is moving forward with plans to hold a series of meetings and forums with students, faculty and staff to listen to their concerns and hear their ideas for restoring civil discourse to the campus.

Videos taken during Friday's arrests showed that the two officers used pepper spray on peacefully seated students.

Ten protesters were arrested Friday in connection with an overnight encampment of about 25 tents on the campus Quad. The protesters were cited and released on misdemeanor charges of unlawful assembly and failure to disperse. Eleven protesters were treated on site for the effects of the pepper spray, including two who were taken to a nearby hospital, where they were treated and released.

"These past few days our campus has been confronted with serious questions which will challenge us for many months and years to come," Katehi said. "We have created great universities which are challenged in their capacity to accommodate our human needs of expression, anger, frustration and even civil disobedience together with the need to feel safe. We need to find a way to change that while at the same time remaining true to our mission of teaching, research and service. We need to think hard and together on how to accomplish this."

Media contact(s):  Claudia Morain, UC Davis News Service, (530) 752-9841, cmmorain@ucdavis.edu 

Police chief placed on administrative leave

November 21, 2011

UC Davis announced today that the chief of the campus Police Department had been placed on administrative leave pending a review of officers' use of pepper spray against protesters. UC Davis Lt. Matt Carmichael will serve as interim police chief.

"As I have gathered more information about the events that took place on our Quad on Friday, it has become clear to me that this is a necessary step toward restoring trust on our campus," said UC Davis Chancellor Linda P.B. Katehi.

"I take full responsibility for the events on Friday and am extremely saddened by what occurred," Katehi added. "I eagerly await the results of the review, and intend to act quickly to implement reforms that will safeguard the rights of our students, faculty and staff to engage in nonviolent protest."

On Sunday, Katehi also called on the Yolo County district attorney's office to investigate the Police Department's use of force. The district attorney agreed to conduct a review in collaboration with the Yolo County sheriff's office.

In a letter to Police Department staff, Vice Chancellor John Meyer said that the decision to place Chief Annette Spicuzza on administrative leave was necessary to allow "a fact-based review of events, assist in calming the community environment, and allow the department to focus on its current and substantial demands."

Today, Katehi will initiate the creation of a task force to conduct the campus review. The task force will convene immediately and will be asked to issue its recommendations within 30 days.

The chancellor also plans to hold a series of meetings and forums with students, faculty and staff to listen to their concerns and hear their ideas for restoring civil discourse to the campus.

"The events last Friday do not represent the UC Davis community we all aspire to be members of," Katehi said. "The safety of our students and their ability to express themselves are paramount as we strive to create the best possible learning environment."

On Sunday, two police officers who were videotaped deploying pepper spray against seated protesters were also placed on administrative leave.

Ten protesters were arrested Friday in connection with an overnight encampment of about 25 tents on the campus Quad. University policy prohibits overnight camping. The protesters were cited and released on misdemeanor charges of unlawful assembly and failure to disperse.

Videotapes showed officers spraying seated protesters with pepper spray following the arrests.

Eleven protesters were treated on site for the effects of the pepper spray, including two who were taken to a nearby hospital, where they were treated and released.

Media contact(s):  Pat Bailey, UC Davis News Service, (530) 752-9843, pjbailey@ucdavis.edu

 

Copyright © The Regents of the University of California, Davis campus. All Rights Reserved.
Oddly intense.
More from the Guardian:
Two University of California, Davis police officers involved in pepper spraying seated protesters are being placed on administrative leave as the chancellor of the school accelerates the investigation into the incident.
Chancellor Linda Katehi said she has been inundated with reaction over the incident, in which an officer dispassionately fired pepper spray on a line of sitting demonstrators.
Katehi said she takes "full responsibility for the incident" but has resisted calls for her resignation, instead pledging to take actions to make sure "that this does not happen again". However, a law enforcement official who watched the clip called the use of force "fairly standard police procedure".
Seriously amazing video of the UC Davis chancellor walking past hundreds of students who remain completely silent to demonstrate their anger about police in riot gear pepper spraying peacefully protesting students.


Chancellor Katehi:

As the a former ASUCD President and a proud UC Davis Alum, I am sickened and disturbed by what I witnessed happen to students on the UC Davis campus on Friday. During my tenure at UCD we had ample issues with UCPD; but under your direction, the treatment of students by police is the worst I've ever seen.

The essence of a non-violent protest is just that—non-violent. The health and safety of students was not at risk until you ordered the police to attack them. It is your actions, not those of the students, that created the harm.

As Chancellor, you have been entrusted to protect the students and ensure they have a safe environment. College campuses should be a safe space for expression of ones beliefs. UC Davis has struggled with community-police relations for years. Your efforts have reversed whatever progress that has been made through our tireless efforts. Hiding behind the so-called concerns of the parents who have entrusted their students to us, to ensure that all can live, learn and work in a safe and secure environment" seems misplaced, in that parents had nothing to worry about until you ordered their children attacked. If anything, parents will now feel less secure in sending their children to UC Davis knowing that if—gasp—they speak out and take action—the Chancellor will condone such brutal treatment.

Whether or not you requested that the students remove their encampment is immaterial to the amount of force used. Ordering that students be pepper-sprayed and allowing officers to force the spray down their throats is beyond reason.

Not only did your actions violate the constitutional rights of the students, they violated the peace-of-mind all students should have on their campus. The quad was a safe place to express idea, debate the issues, and engage with fellow students on many levels. It is the home of some of our most famous celebrations, including Multi-Cultural Week, Picnic Day, and Diversity Days. What you have done has turned this symbol of student freedom and expression into a nationally recognized symbol of police brutality and suffering. The nation's introduction to the UC Davis quad could not be less appealing. You have marred the reputation of our campus in the eyes of the students, their parents, the Davis community, and the entire United States of America.

You were a questionable choice for Chancellor to begin with. It's obvious today that the selection committee made a mistake. And for that, the students have suffered.

I stand with the calls for your resignation, and I hope your immediate exit will partially remove the foul stench associated with the campus that was produce by your pepper-spray and the blood and tears of the students.

I hope you will resign immediately.

Caliph Assagai
UC Davis, Class of 2006
ASUCD President, '05-'06
D0X: UC Davis Pepper Spraying officer, Lt. John Pike. Please be respectful in your condemnation of this act of brutality.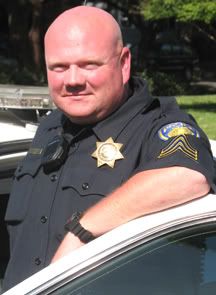 Lieutenant John Pike
Records Unit Manager
Phone: 530-752-3989
Cell: 530-979-0184
japikeiii@ucdavis.edu
LinkedIn: http://www.linkedin.com/pub/john-pike/18/a76/879
Pike has received 2  Meritorious Service Awards from UC Davis
California Penal Code Section 12403.7 (a) (8)
(g) Any person who uses tear gas or tear gas weapons except in self-defense is guilty of a public offense and is punishable byimprisonment in a state prison for 16 months, or two or three years or in a county jail not to exceed one year or by a fine not to exceed one thousand dollars ($1,000), or by both the fine and imprisonment, except that, if the use is against a peace officer, as defined in Chapter 4.5 (commencing with Section 830) of Title 3 of Part 2, engaged in the performance of his or her official duties and the person committing the offense knows or reasonably should know that the victim is a peace officer, the offense is punishable by imprisonment in a state prison for 16 months or two or three years or by a fine of one thousand dollars ($1,000), or by both the fine and imprisonment. 
File formal complaint against UC Davis police officer here: (pdf)

UC Davis Support Services Division
Contact Information:
Captain Joyce Souza
530-752-6202
Monday - Friday
8:00 AM to 5:00 PM
jxsouza@ucdavis.edu

Reporting a Crime or Accident
UC Davis Police Non-Emergency Service
(530) 752-1727

UC Office of the President
Mark G. Yudof
University of California
1111 Franklin St., 12th Floor
Oakland, CA 94607
Email: president@ucop.edu
Professor at the university, Nathan Brown, wrote an "open letter" calling on Chancellor Linda P.B. Katehi to resign. The entire letter boldly condemns the Chancellor for permitting riot police to handle students as police did. (source)
UC Chancellor Linda P.B. Katehi
Her response to the brutality
Offices of the Chancellor and Provost
Fifth floor, Mrak Hall
University of California, Davis
One Shields Avenue
Davis, CA 95616
(530) 752-2065
Contact form: http://chancellor.ucdavis.edu/contact.php
Katehi's Facebook page: https://www.facebook.com/home.php#!/pages/Linda-PB-Katehi/147754228574654

UC Davis FB Page: https://www.facebook.com/UCDavis

His boss, UCD Police Chief Annette Spicuzza, told the Davis Enterprise that she's "very proud" of her officers. "I don't believe any of our officers were hurt," she says, "and I hope none of the students were injured." (source)

UCD Police Chief Annette Spicuzza
(530) 752-3113
Salary: $125,000/yr
Linked in: http://www.linkedin.com/pub/annette-spicuzza/18/435/772

UC Davis Police Department
One Shields Ave.
Davis, CA  95616 
(530) 752-6823 
FAX: (530) 752-3216 

John Pike's Education
California State University-Hayward (BS)
Activities and Societies: Theta Chi Fraternity
Submit a story to Theta Chi Fraternity
International Headquarters: 317-824-1881
http://www.thetachi.org
Theta Chi UC Davis Chapter: Zeta XI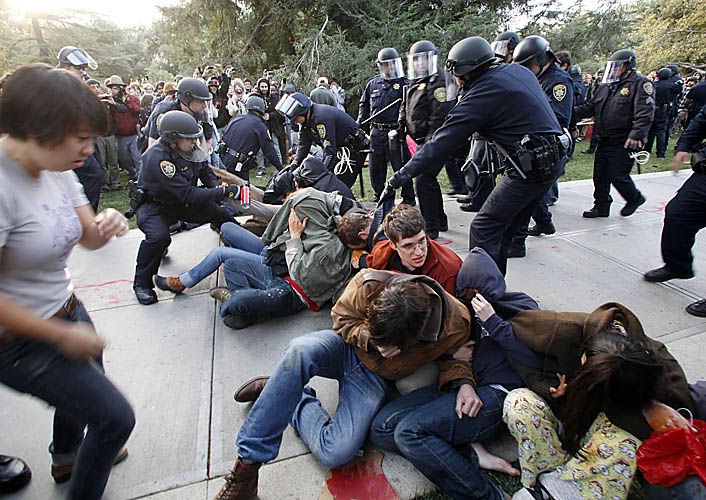 (via anonymissexpress)
Occupy: Occupy UC Davis: Police pepper spraying and arresting students at UC Davis
10 Occupy Davis protesters were arrested at UC Davis during a peaceful demonstration in the campus quad.
A UC Davis spokeswoman said protesters, who have been camping on the quad since being kicked out of the university administration building on Wednesday, were warned to remove their tents or face eviction by police.
Many dismantled their camping equipment before police arrived, but about 50 protesters stayed put.
The video above shows the students who chose not to leave being pepper sprayed by a police officer while sitting with linked arms around the encampment.
"The communication between police and our liaison was sparse," said Nick Perrone, recording secretary for the graduate student workers union. "They were not communicating well with student activists. We had no intention to antagonize the police."