From KXTV Sacramento:

In a pay package slated for review at this week's Board of Trustees meeting, newly appointed CSU Fullerton President Mildred Garcia will get $324,500 in base pay, plus housing and a $12,000-per-year car allowance. That's exactly 10 percent more than her predecessor, Milton Gordon, who in 2011 had a base salary of $295,000.

It's also 10 percent more than Garcia earned in base pay at her previous post as president of CSU Dominguez Hills, according to CSU's executive compensation summary.

Leroy Morishita, the new president at CSU East Bay, will get $303,660 plus $60,000 per year for housing and a $12,000 annual car allowance. That's 10 percent above predecessor Mohammad Qayoumi's base pay in 2010, as well as a 10 percent raise for Morishita, who had been serving as interim president in Qayoumi's stead since July.

Several lawmakers have introduced legislation aimed at further reining in executive compensation at CSU and other state agencies. Sen. Leland Yee, D-San Francisco, introduced SB 967, which would prohibit the governing boards of CSU and the community colleges from providing raises for top executives during bad budget years or within two years of a student fee increase. It also would limit the pay of an incoming executive to no more than 5 percent above his or her predecessor.
(via occupychulavista)
Records reveal that the #OPD put officers with histories of using deadly force on the frontlines during Occupy Oakland protests.
Pasadena, California: #Occupy Wall Street protesters demonstrated at the end of the 123rd annual Rose Parade. Up to 5,000 marched, according to participant Cindy Sheehan. January 2, 2012
Members of the Occupy Movement are finalizing plans for a scheduled demonstration Jan. 2 at the Rose Parade in Pasadena.
The movement's latest plans were announced in November and could bring anywhere from 4,000 to 40,000 protesters to the highly attended and viewed event.
There are four phases to the demonstration, as is described on the Occupy the Rose Parade website.
The first phase starts the day before the parade at an event, coined by some as the Dawning of the Age of Aquarius, in All Saints Church in Pasadena. The event is part celebration, part forum on economic and social justice.
The second phase will take place at Norton Simon Museum, located on the parade's main drag, where protesters are expected to display signs.
The demonstrators are planning to form a human float in the shape of an octopus for the third phase, and are expected to trail the final parade float down Colorado Boulevard. The octopus is meant to represent the hold corporations have on the country.
"The last float in the parade is number 43," said Occupy protester Pete Thottam in a past interview. "We're going to be float number 44, which coincidentally is the Obama Administration's float number."
The Occupiers plan to gather for a pow wow in the final phase of the event, which may include a press conference at Pasadena City Hall and a subsequent music concert.
Though demonstrators maintain they have planned a peaceful protest, the Pasadena Police Department is expected to beef up security at the event. They plan to have helicopters flying above the parade route and to employ an armored vehicle during the parade.

The Rose Parade is watched by an estimated 47 million Americans on TV, in addition to several million international viewers. The theme for its 123rd year is "Just Imagine…"
Visit the website for Occupy the Rose Parade and see the official schedule of events.
Occupy Santa Cruz protesters convert empty bank and vacant lot into community spaces; police threaten reprisal
Santa Cruz raised the bar of what it means to "Occupy Everything" in two separate actions last week. Community members organized to convert two unused spaces into gathering places.
"I think it is important to directly reinsert ourselves as communities who need space to connect and share, to connect with one another outside of commercial space and monetary exchange," said one protester, who like all who attended this action chose not to their names due to legal concerns. 
Santa Cruz maintains strict laws: It is illegal to sit within 14 feet of any building, public bench, public telephone, public trash can, drinking fountain, bus stop, open air dining area, street or intersection or piece of public artwork; to sit on benches for longer than an hour; to blow bubbles; to hacky-sack.
Rejecting these laws and the broader capitalist system, hundreds occupied a vacant bank and turned an empty lot into a community garden.
A Response from President Yudof at UC Davis
howlocanyougo submitted: 
 I just received this response email from the president of UC Davis in response to emails about their police misconduct last week.
Thank you for your email regarding the recent incident where UC Davis students were doused with pepper spray by campus police.  As I am sure you will understand, I have received innumerable message about this and, although I would like to respond personally to each one, that is simply impossible given the volume.  I am, therefore, sending this same response to all, but I want you to know that I am reading all the messages I have received. 

Please know that I share your utter dismay over this shocking incident.  In response, I have issued the following statement:

 I am appalled by images of University of California students being doused with pepper spray and jabbed with police batons on our campuses.

I intend to do everything in my power as President of this university to protect the rights of our students, faculty and staff to engage in non-violent protest. 

Chancellors at the UC Davis and UC Berkeley campuses already have initiated reviews of incidents that occurred on their campuses. I applaud this rapid response and eagerly await the results. 

The University of California, however, is a single university with 10 campuses, and the incidents in recent days cry out for a systemwide response. 

Therefore I will be taking immediate steps to set that response in motion. 

I intend to convene all 10 Chancellors, either in person or by telephone, to engage in a full and unfettered discussion about how to ensure proportional law enforcement response to non-violent protest. 

To that end, I will be asking the Chancellors to forward to me at once all relevant protocols and policies already in place on their individual campuses, as well as those that apply to the engagement of non-campus police agencies through mutual aid agreements. 

Further, I already have taken steps to assemble experts and stake-holders to conduct a thorough, far-reaching and urgent assessment of campus police procedures involving use of force, including post-incident review processes. 

My intention is not to micromanage our campus police forces. The sworn officers who serve on our campuses are professionals dedicated to the protection of the UC community. 

Nor do I wish to micromanage the chancellors. They are the leaders of our campuses and they have my full trust and confidence. 

Nonetheless, the recent incidents make clear the time has come to take strong action to recommit to the ideal of peaceful protest. 

As I have said before, free speech is part of the DNA of this university, and non-violent protest has long been central to our history. It is a value we must protect with vigilance. I implore students who wish to demonstrate to do so in a peaceful and lawful fashion. I expect campus authorities to honor that right.

UC Davis Chancellor, Linda Katehi, has also issued a statement and I attach for your information a copy of her statement, as well as two media releases regarding the placing of the officers involved and the police chief on administrative leave.  She has my full support in this matter and I am confident that she and her administration will work to preserve the health and safety of the campus community, and to conduct a fair review of this unfortunate event.  I am sharing your message with her so that she, too, will be aware of your concerns.

With best wishes, I am,

Sincerely yours,

Mark G. Yudof

President

Enclosures

cc:        Chancellor Katehi

Dear Member of the UC Davis Community: 

Yesterday was not a day that would make anyone on our campus proud; indeed the events of the day need to guide us forward as we try to make our campus a better place of inquiry, debate, and even dissent. As I described in my previous letter to the community, this past week our campus was a site of week-long peaceful demonstrations during which students were able to express their concerns about many issues facing higher education, the University of California, our campus, our nation, and the world as a whole. Those events involved multiple rallies in the Quad and an occupation of Mrak Hall which ended peacefully a day later. 

However, the events on Friday were a major deviation from that trend. In the aftermath of the troubling events we experienced, I will attempt to provide a summary of the incident with the information now available to me. 

After a week of peaceful exchange and debate, on Thursday a group of protestors including UC Davis students and other non-UC Davis affiliated individuals established an encampment of about 25 tents on the Quad. The group was reminded that while the university provides an environment for students to participate in rallies and express their concerns and frustrations through different forums, university policy does not allow such encampments on university grounds. 

On Thursday, the group stayed overnight despite repeated reminders by university staff that their encampment violated university policies and they were requested to disperse. On Friday morning, the protestors were provided with a letter explaining university policies and reminding them of the opportunities the university provides for expression. Driven by our concern for the safety and health of the students involved in the protest, as well as other students on our campus, I made the decision not to allow encampments on the Quad during the weekend, when the general campus facilities are locked and the university staff is not widely available to provide support. 

During the early afternoon hours and because of the request to take down the tents, many students decided to dismantle their tents, a decision for which we are very thankful. However, a group of students and non-campus affiliates decided to stay. The university police then came to dismantle the encampment. The events of this intervention have been videotaped and widely distributed. As indicated in various videos, the police used pepper spray against the students who were blocking the way. The use of pepper spray as shown on the video is chilling to us all and raises many questions about how best to handle situations like this. 

To this effect, I am forming a task force made of faculty, students and staff to review the events and provide to me a thorough report within 90 days. As part of this, a process will be designed that allows members of the community to express their views on this matter. This report will help inform our policies and processes within the university administration and the Police Department to help us avoid similar outcomes in the future. While the university is trying to ensure the safety and health of all members of our community, we must ensure our strategies to gain compliance are fair and reasonable and do not lead to mistreatment. 

Furthermore, I am asking the office of Administrative and Resource Management and the office of Student Affairs to review our policies in relation to encampments of this nature and consider whether our existing policies reflect the needs of the students at this point in time. If our policies do not allow our students enough flexibility to express themselves, then we need to find a way to improve these policies and make them more effective and appropriate. 

Our campus is committed to providing a safe environment for all to learn freely and practice their civil rights of freedom of speech and expression. At the same time, our campus has the responsibility to ensure the safety of all others who use the same spaces and rely on the same facilities, tools, environments and processes to practice their freedoms to work and study. While the university has the responsibility to develop the appropriate environments that ensure the practice of these freedoms, by no means should we allow a repeated violation of these rules as an expression of personal freedom. 

Through this letter, I express my sadness for the events of past Friday and my commitment to redouble our efforts to improve our campus and the environment for our students.

Sincerely,

Linda P.B. Katehi

Chancellor

Police officers put on administrative leave

November 20, 2011

Two UC Davis police officers have been placed on administrative leave following their use of pepper spray in the Friday arrests of 10 protesters on campus, university officials said today.

"I spoke with students this weekend, and I feel their outrage," said UC Davis Chancellor Linda P. B. Katehi. "I have also heard from an overwhelming number of students, faculty, staff and alumni from around the country. I am deeply saddened that this happened on our campus, and as chancellor, I take full responsibility for the incident. However, I pledge to take the actions needed to ensure that this does not happen again. I feel very sorry for the harm our students were subjected to and I vow to work tirelessly to make the campus a more welcoming and safe place."

Katehi also accelerated the timetable for a task force to investigate the events surrounding the arrests, including communications from the police to the administration. She set a deadline of 30 days for the task force to issue its report. Katehi said the task force, which will include representatives of faculty, students and staff, will be chosen this week and will convene immediately.

At the same time, the chancellor is moving forward with plans to hold a series of meetings and forums with students, faculty and staff to listen to their concerns and hear their ideas for restoring civil discourse to the campus.

Videos taken during Friday's arrests showed that the two officers used pepper spray on peacefully seated students.

Ten protesters were arrested Friday in connection with an overnight encampment of about 25 tents on the campus Quad. The protesters were cited and released on misdemeanor charges of unlawful assembly and failure to disperse. Eleven protesters were treated on site for the effects of the pepper spray, including two who were taken to a nearby hospital, where they were treated and released.

"These past few days our campus has been confronted with serious questions which will challenge us for many months and years to come," Katehi said. "We have created great universities which are challenged in their capacity to accommodate our human needs of expression, anger, frustration and even civil disobedience together with the need to feel safe. We need to find a way to change that while at the same time remaining true to our mission of teaching, research and service. We need to think hard and together on how to accomplish this."

Media contact(s):  Claudia Morain, UC Davis News Service, (530) 752-9841, cmmorain@ucdavis.edu 

Police chief placed on administrative leave

November 21, 2011

UC Davis announced today that the chief of the campus Police Department had been placed on administrative leave pending a review of officers' use of pepper spray against protesters. UC Davis Lt. Matt Carmichael will serve as interim police chief.

"As I have gathered more information about the events that took place on our Quad on Friday, it has become clear to me that this is a necessary step toward restoring trust on our campus," said UC Davis Chancellor Linda P.B. Katehi.

"I take full responsibility for the events on Friday and am extremely saddened by what occurred," Katehi added. "I eagerly await the results of the review, and intend to act quickly to implement reforms that will safeguard the rights of our students, faculty and staff to engage in nonviolent protest."

On Sunday, Katehi also called on the Yolo County district attorney's office to investigate the Police Department's use of force. The district attorney agreed to conduct a review in collaboration with the Yolo County sheriff's office.

In a letter to Police Department staff, Vice Chancellor John Meyer said that the decision to place Chief Annette Spicuzza on administrative leave was necessary to allow "a fact-based review of events, assist in calming the community environment, and allow the department to focus on its current and substantial demands."

Today, Katehi will initiate the creation of a task force to conduct the campus review. The task force will convene immediately and will be asked to issue its recommendations within 30 days.

The chancellor also plans to hold a series of meetings and forums with students, faculty and staff to listen to their concerns and hear their ideas for restoring civil discourse to the campus.

"The events last Friday do not represent the UC Davis community we all aspire to be members of," Katehi said. "The safety of our students and their ability to express themselves are paramount as we strive to create the best possible learning environment."

On Sunday, two police officers who were videotaped deploying pepper spray against seated protesters were also placed on administrative leave.

Ten protesters were arrested Friday in connection with an overnight encampment of about 25 tents on the campus Quad. University policy prohibits overnight camping. The protesters were cited and released on misdemeanor charges of unlawful assembly and failure to disperse.

Videotapes showed officers spraying seated protesters with pepper spray following the arrests.

Eleven protesters were treated on site for the effects of the pepper spray, including two who were taken to a nearby hospital, where they were treated and released.

Media contact(s):  Pat Bailey, UC Davis News Service, (530) 752-9843, pjbailey@ucdavis.edu

 

Copyright © The Regents of the University of California, Davis campus. All Rights Reserved.
D0X: UC Davis Pepper Spraying officer, Lt. John Pike. Please be respectful in your condemnation of this act of brutality.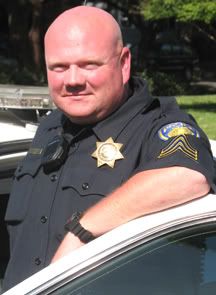 Lieutenant John Pike
Records Unit Manager
Phone: 530-752-3989
Cell: 530-979-0184
japikeiii@ucdavis.edu
LinkedIn: http://www.linkedin.com/pub/john-pike/18/a76/879
Pike has received 2  Meritorious Service Awards from UC Davis
California Penal Code Section 12403.7 (a) (8)
(g) Any person who uses tear gas or tear gas weapons except in self-defense is guilty of a public offense and is punishable byimprisonment in a state prison for 16 months, or two or three years or in a county jail not to exceed one year or by a fine not to exceed one thousand dollars ($1,000), or by both the fine and imprisonment, except that, if the use is against a peace officer, as defined in Chapter 4.5 (commencing with Section 830) of Title 3 of Part 2, engaged in the performance of his or her official duties and the person committing the offense knows or reasonably should know that the victim is a peace officer, the offense is punishable by imprisonment in a state prison for 16 months or two or three years or by a fine of one thousand dollars ($1,000), or by both the fine and imprisonment. 
File formal complaint against UC Davis police officer here: (pdf)

UC Davis Support Services Division
Contact Information:
Captain Joyce Souza
530-752-6202
Monday - Friday
8:00 AM to 5:00 PM
jxsouza@ucdavis.edu

Reporting a Crime or Accident
UC Davis Police Non-Emergency Service
(530) 752-1727

UC Office of the President
Mark G. Yudof
University of California
1111 Franklin St., 12th Floor
Oakland, CA 94607
Email: president@ucop.edu
Professor at the university, Nathan Brown, wrote an "open letter" calling on Chancellor Linda P.B. Katehi to resign. The entire letter boldly condemns the Chancellor for permitting riot police to handle students as police did. (source)
UC Chancellor Linda P.B. Katehi
Her response to the brutality
Offices of the Chancellor and Provost
Fifth floor, Mrak Hall
University of California, Davis
One Shields Avenue
Davis, CA 95616
(530) 752-2065
Contact form: http://chancellor.ucdavis.edu/contact.php
Katehi's Facebook page: https://www.facebook.com/home.php#!/pages/Linda-PB-Katehi/147754228574654

UC Davis FB Page: https://www.facebook.com/UCDavis

His boss, UCD Police Chief Annette Spicuzza, told the Davis Enterprise that she's "very proud" of her officers. "I don't believe any of our officers were hurt," she says, "and I hope none of the students were injured." (source)

UCD Police Chief Annette Spicuzza
(530) 752-3113
Salary: $125,000/yr
Linked in: http://www.linkedin.com/pub/annette-spicuzza/18/435/772

UC Davis Police Department
One Shields Ave.
Davis, CA  95616 
(530) 752-6823 
FAX: (530) 752-3216 

John Pike's Education
California State University-Hayward (BS)
Activities and Societies: Theta Chi Fraternity
Submit a story to Theta Chi Fraternity
International Headquarters: 317-824-1881
http://www.thetachi.org
Theta Chi UC Davis Chapter: Zeta XI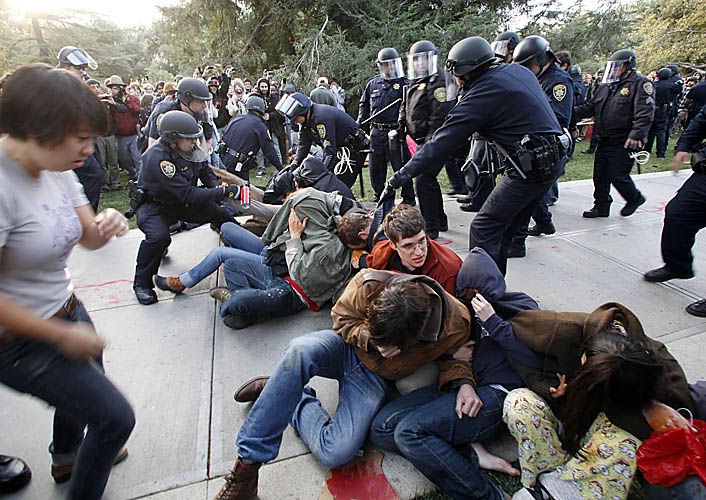 (via anonymissexpress)
Police (Berkeley campus and Alameda county sheriffs) beating Occupy Cal Berkeley students before retreating 
Reblogging because it needs to be seen.
(via enlighteningnews)
Police (Berkeley campus and Alameda county sheriffs) beating Occupy Cal Berkeley students before retreating today.
Campus police at the University of California at Berkeley on Wednesday dismantled an anti-Wall Street encampment students had set up and arrested protesters in their way.
Student activists tried establishing an "Occupy Cal" camp on campus despite official warnings that such encampments would not be allowed.
Students had pitched at least eight tents next to Sproul Plaza before police in riot gear broke through a line of protesters encircling the camp site and tore down the tents. They handcuffed protesters who resisted as others shouted, "Put down your guns!"
The university reported on its web site that seven people had been arrested.
Shortly after they moved on, however, leaving behind the tents stuffed inside garbage bags, the demonstrators pitched two more tents and surrounded them.
"We see this as an illegitimate use of force," said Amanda Armstrong, a graduate student who was hit several times by police armed with batons that were also used to push through the crowd. "We intend to stay and re-establish our encampment."
Earlier in the day hundreds of students, teachers and Berkeley residents rallied on campus before marching peacefully to a Bank of America branch to protest financial policies they blame for causing deep cuts in higher education spending.
They then held a "general assembly" during which they voted to establish "Occupy Cal" and to set up an encampment similar to Occupy Wall Street camps around the country.
After eight tents went up, campus officers accompanied by Alameda County sheriff's deputies moved in quickly and removed one. But they backed off after a human wall encircled them with chants of, "Whose university? Our university!" The police moved in the second time outfitted in riot gear and pullled protesters who tried to block them to the ground.
UC Berkeley Chancellor Robert Birgeneau warned Monday that community members could rally on campus, but that encampments and occupations of buildings were not permitted.
"As the birthplace of the Free Speech Movement, we hold an important place in history and are looked to as a model and beacon for others in this regard," the chancellor wrote in an open letter to the community. "We stand ready to support our campus community in leading the collegiate movement in a way that is productive, dignified and consequential."
The university said Wednesday evening that administrators hoped to negotiate a quick end to the effort to establish an overnight camp.
OAKLAND, Calif. — Occupy Wall Street protesters had just half a day to celebrate what they saw as their biggest victory so far: a daylong gathering in Oakland that drew thousands of people and led to the peaceful shutdown of the nation's fifth-busiest port. Then, after midnight, the vandalism began.

Hours after a small group of what city leaders called "provocateurs" clashed with riot police, set fires and shattered windows early Thursday, demonstrators across the country condemned the violence and wondered whether it was a turn that would destroy their cause.

"They don't speak for the majority of people who were here yesterday," said Hadas Alterman, a college student who was gathering trash at a tent camp near Oakland City Hall. "That was an hour of action, and we were out here for 12 hours and it was peaceful."

The 3,000-person protest outside the port Wednesday night represented an escalation in tactics as demonstrators targeted a major symbol of the nation's commerce with peaceful rallies and sit-ins, managing to effectively suspend maritime operations there for the night.

The street spasm that followed when about 200 people tried to take over a vacant building, however, raised questions about whether a movement with no organizational structure and no high-profile leaders can — or should — do anything to stop those they called troublemakers.

On Thursday afternoon, representatives from the Occupy Oakland media committee read a statement saying participants supported the goal of reclaiming empty buildings to serve the public but regretted that their daylong downtown demonstration was marred by an "autonomous" group.

"It is unfortunate that the unprecedented mobilization and engagement of tens of thousands of our neighborhood in this beautiful Oakland city should be marred by broken windows and graffiti," Laura Long said, reading the statement. "Occupy Oakland does not advocate violence and has no interest in supporting actions that endanger the community and possibilities that it has worked to build."
(via occupyphilly)
Protestors take to the streets of Oakland, California during a General Strike in solidarity with Occupy Oakland.  There has been no official headcount; estimates vary from 500 to 5,000 people participating in the demonstration.

via TurnStyle News
Legal # in case of arrest: 415.285.1011

Poster by Rich Black