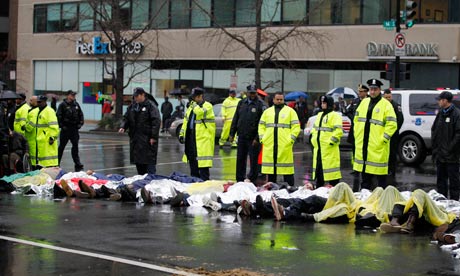 Dozens of people were arrested Wednesday during a chaotic and often tense day of protests in downtown Washington as protesters from the Occupy movement blocked intersections and snarled traffic around K Street for hours.
(See live tweets about the arrests and traffic conditions.)
Hundreds of protesters from Occupy D.C. and around the country joined in the "Day of Action: Occupiers Unite," targeting K Street NW — long a symbol of the nation's lobbying industry because of the numerous lobbying firms based there.
A D.C. police commander estimated that 50 to 70 people had been arrested, many of them charged with obstruction of a public highway, but he cautioned that the figure was preliminary.
Protesters filled K Street as a cold rain fell, chanting the now-familiar slogans of the Occupy movement while slogging through puddles and blocking intersections along K Street between 14th and 16th streets. They blocked intersections with newspaper boxes, wooden pallets, office furniture and tents. Tempers frayed. Horns blared.
Occupy D.C. protesters marched and chanted this week in front of the Podesta Group, the lobbying firm co-founded by John Podesta, Bill Clinton's former chief of staff, as curious employees took pictures of them from behind the windows above. Other protesters have gone to Capitol Hill to disrupt and chant in front of congressional offices and even at Charlie Palmer Steak, a favorite restaurant of the D.C. elite.
"K Street is the place to be if you're going to stop the moneybags who are corrupting our government!" said Jim Sessions, 75, a Methodist minister from Tennessee who was one of the protesters arrested. He and eight others from Houston, Massachusetts and Washington state had linked arms across the intersection of K and 16th streets NW and refused to move.
The demonstrators were among those who had been bused in from cities across the country to join the Occupiers as part of a week-long protest called "Take Back the Capitol," sponsored by the Service Employees International Union, one of the biggest labor unions in the country.
It was the second day of escalating drama and tension at the Occupy D.C. encampment at McPherson Square this week. On Sunday, 31 protesters were arrested in a day-long standoff with U.S. Park Police after they began erecting a wooden structure in the park that they hoped would be their winter headquarters. The structure has been taken down.
On Monday, a U.S. District judge ruled that the National Park Service must give protesters some notice if it moves to evict them, except for in emergency situations. A protester had sought the ruling clarifying his rights if the National Park Service decides to evict protesters, who have been camping at McPherson Square without a permit since Oct. 1.