"Socialism never took root in America because the poor there see themselves not as an exploited proletariat but as temporarily embarrassed millionaires."

- John Steinbeck
One of the greatest cons ever pulled off.
(via peachtherapy)
How Hard Is Poverty Hitting Your County?
A map of changes in poverty, county by county.
It's hardly news that the Great Recession pushed millions of Americans into poverty. In 2010, "poverty" meant having an income of less than $22,113 for a family of four; 15.1 percent of Americans were below that line. As this map shows, some areas of the country fared worse than others between 2007 and 2010. While some counties saw their poverty rates increase only slightly, and some even saw them drop, the number of people under the poverty line in Oregon's Malheur County doubled to nearly two-fifths of its population. And those "bright spots" that appear as dark blue? Look closer—a full 6-point improvement in South Dakota's Ziebach County still left more than one-half its residents below the poverty line. And even the poverty rate itself understates the privation in the country.
Senate Republicans Block Bill on Student Loan Rates
Senate Republicans on Tuesday blocked consideration of a Democratic bill to prevent the doubling of some student loan interest rates, leaving the legislation in limbo less than two months before rates on subsidized federal loans are set to shoot upward.
Along party lines, the Senate voted 52 to 45, failing to clear the 60-vote hurdle needed to beat back a filibusterand begin debating the measure. Senator Olympia J. Snowe, the retiring moderate Republican from Maine, voted present.
Republicans said they wanted to extend Democratic legislation passed in 2007 that temporarily reduced interest rates for the low- or middle-income undergraduates who receive subsidized Stafford loans to 3.4 percent from 6.8 percent.
But they oppose the Senate Democrats' proposal to pay for a one-year extension by changing tax law that currently allows some wealthy taxpayers to avoid paying Social Security and Medicare taxes by classifying their pay as dividends, not cash income.
"They want to raise taxes on people who are creating jobs when we are still recovering from the greatest recession since the Great Depression," said Senator Lamar Alexander, Republican of Tennessee, who instead wanted to pay for it by eliminating a preventive health care fund in President Obama's health care law.
The vote marked the 21st successful filibuster of a Democratic bill this Congress. Republicans have blocked consideration of the president's full jobs proposal, as well as legislation repealing tax breaks for oil companies, helping local governments pay teachers and first responders, and setting a minimum tax rate for households earning more than $1 million a year.
Colleges' withholding transcripts of graduates who've fallen behind on loan payments
Colleges' withholding of transcripts of graduates who've fallen behind on loan payments makes it even less likely that the student can get a job and resume loan payments.
Students traditionally have a soft spot for their alma maters. But as growing numbers of students run up debt in the high five and even six figures to pay for college, that may change. Especially when they discover their old school is actively blocking them from getting a job or going on to a higher degree.
That's what increasing numbers of students are finding when they try to obtain an official transcript to send to potential employers or graduate admissions offices.
It turns out many colleges and universities refuse to issue these critical documents if students are in default on student loans, or in many cases, even if they just fall one or two months behind.
This is happening at a time when recent grads are finding it particularly hard to find work, not just in their chosen fields, but anywhere. About half of recent college degree-holders were unemployed or underemployed last year, according to an Associated Press study released last week. And the federalConsumer Financial Protection Bureau estimates student loan debt has passed $1 trillion, an amount greater than all outstanding credit card debt. The Department of Education put the default rate at 8.8% of student borrowers as of September 2010.
It's no accident that colleges are using the withholding of official transcripts to punish students behind in their loan payments. It turns out the federal government encourages the practice. Schools are not required by law to withhold transcripts, but a spokeswoman at the Department of Education confirmed that the department "encourages" them to use the draconian tactic, saying that the policy "has resulted in numerous loan repayments."
It is a strange position for colleges to take, however, since the schools themselves are not owed any money. Student loan funds come from private banks or the federal government. For federal Perkins loans, schools get a pool of federal money to apply to students' financial aid, and if students don't pay, that pool gets smaller. But the creditor is still the government, not the college. And in the case of so-called Stafford loans, schools are not on the hook in any way; they are simply acting as collection agencies, and in fact may get paid for their efforts at collection.
In Southern California, USC's website makes it clear that unmet loan obligations can prevent students from getting transcripts. As for the University of California, Kate Jeffery, director of student financial support for the system, says transcripts are withheld in the case of delinquent Perkins loans. She concedes it's a difficult issue but says that "it's the only tool we have to make them pay."
Schools don't keep transcript extortion a secret, but for many students who miss the fine print, it's a cruel surprise. A music major — and summa cum laude grad — at Philadelphia's Temple University was making payments on his $62,000 student debt after graduation while working as an adjunct professor for Temple. Laid off after three years, he was unable to find work, fell far behind in his payments and went into default. He decided to try to return to school to earn a doctorate and better his chances of getting teaching work. He was accepted at another university and offered free tuition and a $26,000-a-year stipend for five years. That would allow him to clear his default and defer his loans until graduation. The problem: The grad school program requires an official transcript of his Temple work, and Temple so far has said no.
He asked that his name not be used because he's afraid it would only make it harder to get help from Temple. "With these policies," he told me, Temple is "helping to crush" students who will "end up with debt that they can never repay."
Andrew Ross, an NYU professor who helped spark the Occupy Student Debt movement in November, says of the no-transcript tactic: "It's worse than indentured servitude. With indentured servitude, you had to pay in order to work, but then at least you got to work. When universities withhold these transcripts, students who have been indentured by loans are being denied even the ability to work or to finish their education so they can repay their indenture."
The Obama administration, which has made much of trying to ease the student debt burden, could with a simple directive reverse the Education Department's recommendation that schools withhold transcripts. It's past time to do just that.
Preach it, Stevie. Tell it like it is, my main man. 
Video: Portland Police Action during Occupy Portland May Day Protests
by Adam Rothstein (I know Adam, so if anyone has any questions, pass them along)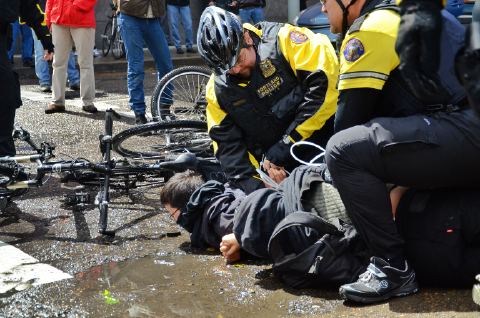 It's been a long day out at the various May Day events, and we are still processing all of our video and photos from the day. However, two videos have surfaced that are such egregious examples of the Police violence that was unleashed against protesters today, that we wished to publish these videos without delay.
The first shows a woman being thrown to the curb, and her head being slammed into a bicycle. It was taken during the General Strike march, between 12 and 2 PM on May 1. After the police see the camera man filming, they charged him with police horses, to which he reacts, understandably upset at almost being trampled.
The second piece of footage shows police attacking people standing on the sidewalk, throwing them to the group, and then assaulting a young woman, including pulling her hair very forcibly. Then, they drag another person across the Light Rail tracks. Again, in this situation, the camera man was attacked while in the process of documenting the arrests.
It is very troubling that this sort of violence is used to attempt to enforce traffic infractions. Furthermore, the threatening gestures made towards the media, on a day when several members of the media were beaten by police and arrested, is very concerning.
We thank our media people who braved this violence, so that the people can see what their police force is paid to do to the citizens of Portland. The first video is by OPMC's Mike BH, and the second is by a person whose name I unfortunately forget, but who stopped by the media van, concerned that this video would be seized by the police if he were to be arrested.
 (05-01) 19:30 PDT Oakland —
Oakland police clashed repeatedly with Occupy activists Tuesday, firing tear gas canisters and flash-bang grenades at several hundred protesters near City Hall in brief but volatile skirmishes that escalated as quickly as they dissipated.
Some protesters shoved against police lines with black shields bearing an "A" for anarchy. Some threw objects at officers, surrounded police cars and pounded on them. In one case, a protester dressed in black threatened an officer with a pole.
But many protesters remained peaceful, throwing flowers at the cops' feet or marching peacefully with children in the Fruitvale District, vowing to avoid the violence downtown.
The daylong series of events on May Day was held throughout parts of Oakland, San Francisco and the rest of the Bay Area by a wide range of protest groups, including Occupy, to honor International Workers' Day and denounce economic inequities.
In Oakland in particular, the mood was tense from the beginning, despite the range of events that went from peaceful rallies to confrontations and vandalism.
"The tempo of the crowd was a lot more assertive, a lot more aggressive" than in past demonstrations involving Occupy groups, Oakland Police Chief Howard Jordan said in an afternoon press conference. He said the mood was so volatile that by 9 a.m. he had called for mutual aid from about a half-dozen area law enforcement agencies.
Occupy May Day Protests Across US
The Occupy Wall Street movement has attempted to breathe new life into its campaign against inequities in the global financial system with a series of May Day protests around the United States.
Thousands of people turned out in New York for a day of action that culminated in a confident march down Broadway in the evening sunshine towards Wall Street, the crucible of the protest that began last year with an angry backlash against banking excess.
The stated aim of bringing business in the commercial capital of the US to a standstill went unfulfilled, but as rain gave way to a bright spring afternoon, traffic ground to a halt around Lower Manhatttan as theOccupy movement's most anticipated day of action in months took hold.
There were isolated clashes with police as officers clamped down on perceived violations, but by early evening the mood was broadly good-natured. There were flashpoints, however, at protests elsewhere in the United States.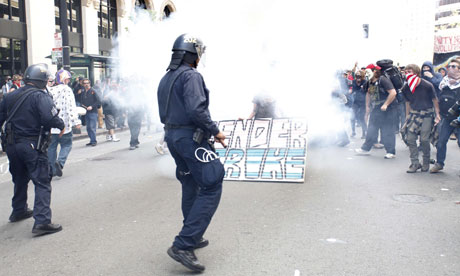 In Oakland, California, scene of several violent clashes between activists and police in recent months, the situation threatened to boil over again when police fired tear gas, sending hundreds of demonstrators scrambling. Police arrested four people.
Officers also fired "flash-bang" grenades to disperse protesters converging on officers as they tried to make arrests, police said. Four people were taken into custody.
I know nothing about the group, so I cannot endorse it, but I liked the video nonetheless.
First Occupy Portland-Related Trial Presents A Unique Challenge For The State
By Adam Rothstein
At 9 a.m. on Tuesday, April 17, Jonathan Zook sat down in the courtroom of Judge Karin Immergut, to witness the selection of a jury of his peers–the first jury for an Occupy-related court case in Portland. Zook is charged with resisting arrest, disorderly conduct in the second degree, interfering with an officer, and assault in the fourth degree, all stemming from his arrest on December 17 during an anti-NDAA march. Like many of the pre-trial motions and hearings that have been part and parcel of the Occupy Portland arrestees' due process, jury selection was plodding, lasting most of the day. But through this process, much was revealed about the public's impression of Occupy Portland, and what might take place when Occupiers are finally, at long last, judged by their peers.
Twenty-three prospective jurors were brought into the courtroom, to be whittled down to a final jury of six. From the very beginning it was clear how vital the process of jury selection, or voir dire, is to a trial. It is during this questioning of the potential candidates by the judge and the defense and prosecution lawyers that biases are exposed, and a fair and impartial jury is built, person by person.
The surprise was that, unlike some depictions of Occupy Portland in corporate media, the sympathies of Portland's citizens were very much with the Occupiers. At the onset of questioning, Judge Immergut asked if anyone thought the subject matter would prevent them from making an impartial decision. Three hands immediately went up, all from candidates who admitted a heavy bias in favor of Occupy Portland. Two individuals said they knew people involved with Occupy Portland, and, regardless of police testimony, they wouldn't be able to discount what they knew to be true from speaking to their friends and co-workers. Another person was even more vigorous in asserting this position and did not mince words. "All the witnesses for the prosecution are police officers," she said. " I've seen this too many times. I can't trust them to be honest." These three candidates were excused.
The more Machiavellian observer might contemplate the merits of Occupy Portland supporters keeping their partisanship under wraps, to thus sneak a favorable vote onto the jury. But if anything, Occupiers value honesty to a fault. Another candidate–when asked if he could find a defendant guilty of an infraction that he felt, ethically, should not be a crime–replied in no uncertain terms, "absolutely not". This is, after all, why Occupiers and their supporters Occupy. They see the dark side of the "legal", the malfunctioning of the government and the economic system, and they know that despite the approval of the ruling class, the system is ethically wrong, and must be stopped. This man also was excused.
Every potential juror was aware of Occupy Portland. There were a few who acted blase, saying that they either avoided reading news about Occupy, or tried to stay away from downtown during the encampment period. None of them claimed to be Occupiers, nor had they taken part in the protests. And yet, the harshest direct criticism heard from jury candidates was that they "saw both sides of the argument equally". If ever there was a random Portland poll geared toward judging whether Occupy had an overall positive effect in the minds of average citizens, this was it. And the result was a resounding thumbs up.
Perhaps Occupy Portland is lucky to be in Portland, with a history of civil disobedience, and a population that understands its positive effects. Certainly such supportive juror candidates couldn't be had in every city. When the prosecutor asked, "Do you agree that sometimes it is okay to resist arrest?" a retired college professor asked a question in response that might have come straight from a Movement Building forum at Occupy Portland. "Well, what do you mean by 'resisting' arrest?" She went on to say that she thought that going limp, and passively resisting, is a valid form of civil disobedience. The prosecutor, apparently looking to find the means to excuse more sympathetic candidates, asked if anyone else concurred. Seven people unhesitatingly raised their hands. Seeing that he clearly couldn't excuse a third of the candidates at once, he simply went on to the next question.
Finally, six people from the room were picked to judge if Jonathan is guilty beyond a reasonable doubt of what he stands accused of by the District Attorney and the Portland Police Bureau. The jurors spent the rest of the afternoon with their heads bowed, furiously taking notes on the testimony of two police officers, who, from the perspective of this journalist, clearly remembered that Jonathan Zook broke the law, but "couldn't recall" much else. With the activists of Occupy Portland facing down the massive resources of these persecutory branches of so-called "government", this journalist has never been sure that our legal system approximated anything close to "justice". But at least I was reassured that the people of Portland remember what justice is, and, despite the roulette wheel of voir dire, they aren't afraid to raise their hands and express it.
Study: Why Republicans and Democrats Can't Feel Each Other's Pain
Shakespeare asked rhetorically whether Christians and Jews are not "hurt with the same weapons, subject to the same diseases, heal'd by the same means, warm'd and cool'd by the same winter and summer?" The same can be said of Republicans and Democrats, but if you ask people on opposite sides of the aisle to try to empathize with one another, they tend to consider their rivals as not equally human.
That's not a mere observation of election-year political antics, but a finding from scientific research. Led by Ed O'Brien, scientists from the University of Michigan crafted a study on inter-party empathy based on prior data on the emotion, which finds that our ability to empathize is greatly affected not only by whom we're trying to empathize with, but also by our own physical and emotional states.
Physical states, especially, are difficult to transcend. If you've ever packed for a tropical vacation in the dead of winter and had difficulty imagining yourself basking on a warm beach when it's freezing at home, you've experienced the challenge most people face when trying to take the perspective of another — or even of your own future self. When our visceral state is overwhelming, we tend to project the same feeling onto everyone else: if I'm cold, then you must be cold too.
Studies also find that thirsty people perceive others as being equally dehydrated, and those who feel frightened similarly think everyone else must be afraid too. Even exam cheaters project their own willingness to cut corners on fellow test takers.
But this kind of empathy doesn't always extend to everyone. History is filled with examples of warriors who were brutal to their enemies, but kind to their comrades. Biologically speaking, the hormone most associated with empathy — oxytocin — has been found to increase people's feelings of warmth and generosity toward their friends and family while simultaneously increasing prejudice against outsiders.